Pitt Academy's Birdies & Bourbons 2023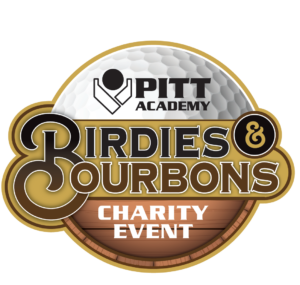 When: Monday May 15, 2023
Where: Wildwood Country Club
Golf registration opens at 11:30am.  There will be a shotgun start at 1:00pm.

Bourbon Tasting and Silent Auction begin at 5:30 pm.
Dinner and the Live Auction begin at 6:30pm.
Contact Jennifer at [email protected] to check availability
For more information you may contact [email protected]
Below is this 2022 event brochure.  Please click the bottom left arrows on the brochure to see both pages.
2023 Pitt Academy Birdies & Bourbons Brochure

Thank you for supporting Pitt Academy and helping make this event a huge success!
Our 2023 Birdies and Bourbons Sponsors:
Gold Sponsor:
Project Heating & Cooling
Speech Unlimited
Silver Sponsor:
Kosair Charities
Bronze Sponsor:
Corken Steel
Coupe Construction
Team Doty
Team Kenney/Thrive 365
Trinity Holdings
Kentuckiana Lawn & Landscaping
US Plumbing
Intertech Mechanical
Intertech Electrical
Ferguson HVAC
SB Home Renovations
Bonnycastle Appliance & TV
Mandeline Hetzel Interiors
High Power Technical Services
Steel Technologies
Hole Sponsor:
Fame & Martin Enterprises
Hometown Dental
The Gilbert Family
Cart Sponsor:
Title Boxing
Williamson Family
RJ Corman
Raising Canes
Moyers Financial
Spectrum Resorts
Table Sponsor:
Republic Bank
Project Heating & Cooling
Mercedes-Benz of Louisville
Associates in Pediatric Therapy
The Massey Family
The Hohmann Family
The McDonnell Family
Harriet Blankenship
The Kirchdorfer Family/Gardenia Home Realty
Hole In One Sponsor:
Mercedes Benz of Louisville
Bourbon Tasting Sponsor:
Republic National Distributing Company
THANK YOU to our 2022 Birdies and Bourbons Sponsors:
Gold Sponsor ($5,000)
Kosair Charities
Silver Sponsor ($2,000)
Project Heating and Cooling
Bronze Sponsor ($1,000)
Corken Steel
High Power Tech
Kentuckiana Lawn & Landscaping
Bonnycastle Appliance
Team Kenney/ Thrive 365
Trinity Holdings Heating & Cooling
Coupe Construction
Mandeline Hetzel Interiors
US Plumbing
SB Home
Intertech Mechanical
Intertech Electrical
Fergusen HVAC
Associates in Pediatric Therapy
Project Heating and Cooling
Project Heating and Cooling
Hole Sponsor ($150)
Raising Canes
Moyers Financial
The Gilbert Family
Rueff Sign Company
Coupe Construction
Brandon Cooper exp Realty
RJ Corman Dinner Train
Cart Sponsor ($25
Orthopedic Specialist
Aidan O Bryan
Spectrum Resorts
Zaxbys
Table Sponsor ($450)
The Hohmann Family
The Hohmann Family
The Zickel Family
The McDonnel Family
The Blankenship Family
The Moyers Family/Moyers Financial
The Kirchdorfer Family/Gardenia Homes Realty
Project Heating and Cooling
Project Heating and Cooling
Jeff Wyler Mercedes
Hole In One Sponsor
Town & Country Ford
Bourbon Tasting Sponsor
Republic National Distributing Company
Golfer Goodie Bag Sponsors
Pitt Academy
Raising Canes
Zaxbys
Heine Brothers
Brick House
Culvers
Sports Clips
The Metts Group