Pitt Academy's Birdies & Bourbons 2022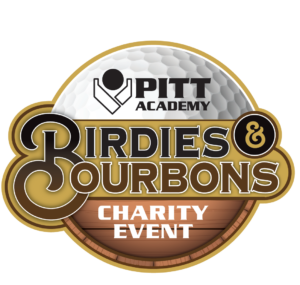 When: Monday May 16, 2022
Where: Wildwood Country Club
Golf registration opens at 11:30am.  There will be a shotgun start at 1:00pm.
 Cart Sponsorships still Available for $25.00!
Bourbon Tasting and Silent Auction begin at 5:30 pm.
Dinner and the Live Auction begin at 6:30pm.
Contact Jennifer at [email protected] to check availability
We are excited to tell you that the silent auction has gone mobile this year! Pitt Academy will be using HANDBID, a mobile silent auction platform which allows you to bid from your smartphone, iPad or computer.  Even if you are not in attendance we would love for you to join in the fun of the evening and check out the over 70 silent auction items to bid on this year (no shipping of items).

You can text PITT to 99192 to be sent a link to register on your phone or use the LINK below to go directly to Pitt Academy's Auction:
https://events.handbid.com/auctions/pitt-academy-birdies-and-bourbons-charity-event/registration
Thank you for supporting Pitt Academy and helping make this event a huge success!
THANK YOU to our 2022 Birdies and Bourbons Sponsors:
Gold Sponsor ($5,000)
Kosair Charities
Silver Sponsor ($2,000)
Project Heating and Cooling
Bronze Sponsor ($1,000)
Corken Steel
High Power Tech
Kentuckiana Lawn & Landscaping
Bonnycastle Appliance
Team Kenney/ Thrive 365
Trinity Holdings Heating & Cooling
Coupe Construction
Mandeline Hetzel Interiors
US Plumbing
SB Home
Intertech Mechanical
Intertech Electrical
Fergusen HVAC
Associates in Pediatric Therapy
Project Heating and Cooling
Project Heating and Cooling
Hole Sponsor ($150)
Raising Canes
Moyers Financial
The Gilbert Family
Rueff Sign Company
Coupe Construction
Brandon Cooper exp Realty
RJ Corman Dinner Train
Cart Sponsor ($25
Orthopedic Specialist
Aidan O Bryan
Spectrum Resorts
Zaxbys
Table Sponsor ($450)
The Hohmann Family
The Hohmann Family
The Zickel Family
The McDonnel Family
The Blankenship Family
The Moyers Family/Moyers Financial
The Kirchdorfer Family/Gardenia Homes Realty
Project Heating and Cooling
Project Heating and Cooling
Jeff Wyler Mercedes
Hole In One Sponsor
Town & Country Ford
Bourbon Tasting Sponsor
Republic National Distributing Company
Golfer Goodie Bag Sponsors
Pitt Academy
Raising Canes
Zaxbys
Heine Brothers
Brick House
Culvers
Sports Clips
The Metts Group
For more information you may contact [email protected]
Below is this years event brochure.  Please click the bottom left arrows on the brochure to see both pages.
2021 Birdies and Bourbons 
On Monday May 17, 2021 we held our 12th Annual Charity Golf Scramble and Silent Auction at Wildwood Country Club. We were blessed again with great weather and a wonderful group of golfers for the event!
The event overall was a great success.  We at Pitt Academy greatly appreciate everyone who participated in our event this year and those that continue to support our mission. A special thanks to all of our sponsors. We could not have done this without you. This event benefits Pitt Academy children, and for that we thank you!
Our 2021 Birdies and Bourbons Sponsors:
Platinum Sponsor:
Kosair Charities
Project Heating & Cooling/Bryant
Gold Sponsor:
High Power Technical Services
Silver Sponsor:
Secured Services
Coupe Construction
Kentuckiana Lawn & Landscaping
Kentuckiana Property Management
Renewal by Andersen
Bronze Sponsor:
Corken Steel
Team Doty
Team Kenney
Trinity Heating & Cooling
Westport Road Christian Church
US Plumbing
Intertech
Hole Sponsor:
Chris Clifford
Commonwealth Bank & Trust
Gilbert Family
Westport Road Christian Church
Cart Sponsor:
Republic Bank
Commonwealth Bank & Trust
The Springer Smith Patterson Family
The Baumer Family/Disney Fans
Super Sean
Table Sponsor:
Republic Bank
The Pepper Family
The Hohmann Family
The Zickel Family
The Lemmenes Family
The Moyers Family/Moyers Financial
The Smith Family/Solo Creative
Hole In One Sponsor:
Town & Country Ford
Bourbon Tasting Sponsor:
Republic National Distributing Company